Foot Pain in Kids
Tuesday, 14 June 2022 00:00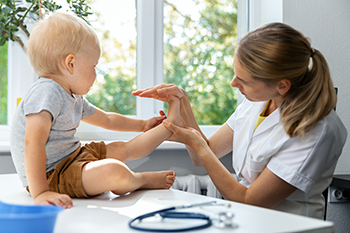 Beyond how active kids are, there are many reasons why children might complain of sore feet.  A child may injure the foot resulting in a sprain or fracture. They may have athlete's foot and find the skin in between their toes or the soles of their feet to be itchy, dry, and scaly. Kids experiencing growth spurts or who play sports involving running and jumping may complain of sore heels and this could be indicative of a condition called Sever's disease. Children who are flat-footed may have foot pain that extends up to their ankles and calf muscles. Tight or ill-fitting shoes can cause blisters or corns. Kids can even develop bunions due to genetics or if the arch of their foot is overcompensated. Sometimes, if the toenails are clipped improperly, a toenail can dig into the surrounding skin and cause pain. Because children's feet are so important to their overall functioning and each condition mentioned causes foot pain, it is suggested that a podiatrist be included as part of your child's routine health care. A podiatrist can diagnose problems that arise and help direct the proper foot care of your child.
The health of a child's feet is vital to their overall well-being. If you have any questions regarding foot health, contact Dr. Robert Graser of Graser Podiatry and Bunion Surgery Institute. Our doctor can provide the care you need to keep you pain-free and on your feet.
Tips for Keeping Children's Feet Healthy
Make sure their shoes fit properly
Look for any signs of in-toeing or out-toeing
Check to see if they have Clubfoot (condition that affects your child's foot and ankle, twisting the heel and toes inward) which is one of the most common nonmajor birth defects.
Lightly cover your baby's feet (Tight covers may keep your baby from moving their feet freely, and could prevent normal development)
Allow your toddler to go shoeless (Shoes can be restricting for a young child's foot)
Cut toenails straight across to avoid ingrown toenails
Keep your child's foot clean and dry
Cover cuts and scrapes. Wash any scratches with soap and water and cover them with a bandage until they've healed.
If you have any questions, please feel free to contact our offices located in Boerne, Hondo, and Devine, TX . We offer the newest diagnostic and treatment technologies for all your foot care needs.
Read more about How to Care for Your Child's Feet